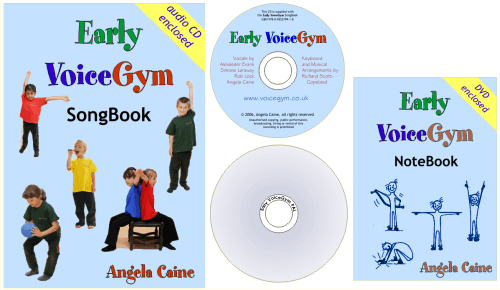 Early VoiceGym is a simple Voice and Body Exercise programme, for children from 5 to 10 years old, to develop singing, speech and posture.
This provides an invaluable tool for any parent, junior or infant teacher, music teacher or music therapy specialist. Not only does it encourage the singing and movement of children and leave you 'hands free' to move and sing with them, it also explains the links between the development of the voice and the development of posture, coordination and dentition (not generally covered in anyone's training), and how these can effect not only the voice, but the brain as well.
Aims of Early VoiceGym:
To get children singing well at an early age

To strengthen the connections between the development of voice, posture, brain and dentition

To maintain the connection between speech and singing, often lost in early schooling

To develop children's confidence

To encourage them to support and help one another

To get parents involved with and understanding this connected development

To give children better speech to read aloud and communicate with

To give everyone the foundations of a good voice for life

To inform parents and teachers of early stages in the development of children's coordination, voices, dentition, and posture so that potential problems can be detected and prevented before the more complicated stages of puberty and adulthood are reached

To make singing fun for the whole family
Buy The Complete Early VoiceGym on CD and get going yourself.
Early VoiceGym costs £45.00, plus shipping, from the VoiceGym shop.
The Early VoiceGym exercise system with DVD and audio CD, first published October 2006 by VoiceGym, ISBN 0-9553799-3-8.
Why use a special Voice and Body Exercise Programme designed especially for Children?
The Early VoiceGym pack includes:
Early VoiceGym SongBook - a book of exercises and songs with instructions and an audio CD

Early VoiceGym NoteBook - a book of notes on the early development of children and the background to the exercises

A DVD demonstrating the programme with children

Two stretch bands of different weights - one light for children, one medium for an adult